What is this service?
When it comes to your house, you pick all the best items for it.
If your home is newly built, you may require window and door installation for it. It is recommended first to consider some factors, like available space. However, if you get it done from a professional company, they will take care of everything.
This article will tell you all about window installation services to help you note the most important things.
How Window Installation is Done
There are two factors involved: installing a completely new window or replacing the old one. If you want to replace it, it is much easier. The installer will get the right type and install it in the place. The real challenge is to install a completely new one. Let's see what steps the process takes. 
Steps to follow to perform a window installation 
First, the installer will vacuum the place to ensure it is free from debris and allergens.

Now, a flash tape needs to be placed to keep the moisture out.

The installer will now measure the sides to secure the windowsill.

Now, the new window will be installed after inspecting all its measurements.

With the help of measuring equipment, you can check whether the window is leveled or not.

Lastly, more flash tape will be placed to secure the newly installed window.
Although some installers will also use foam sealants, there is no need to worry. They are not harmful to the window structure. Instead, they provide resistance from air leaks. 
Benefits of Choosing the Right Installation
There are various benefits of well-installed windows. Let's take a look at some of them.
It gives a good outlook and increases the house value.

Properly installed windows that have no gaps between will reduce and cancel all the unwanted noise from outside. 

It protects everyone in the house from harmful UV rays.

Properly installed windows will keep your place safe from breaking in. 

You will notice more comfort in your home. It is because of the airflow and weather benefits that the window will help to slide in.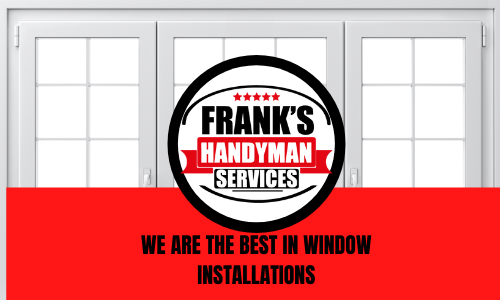 Why Hire a Professional Window Installer?
Window installation is more difficult than it may look. It does require not only the right equipment but also the skillset. Those who have no experience regarding this service might not be able to install windows properly. Although it would look fine, the measurements and safety are the most important factors. If all the leveling is not right, the window might face air leaks and damage from outdoor elements. That is why it is better to hire a reliable and professional service, like Frank Handy Service, for this job. With the help of experienced hands, you can never go wrong.